I absolutely love designing bespoke wedding cakes; it is one of my favourite parts of creating your dream bespoke cake. Having said that I enjoy every bit of the whole process, from our first contact to setting your cake up on your wedding day, I love it all.
It can seem a bit daunting when you first start thinking about your wedding cake design. Therefore, I wanted to share some inspiration ideas with you. Anything and everything inspires me. Never discount anything when deciding what to share because if it brings you joy then that's inspiration!
Stationery
Do you love your stationery?
Is the font on your stationery absolutely beautiful? We can use the same font to design a bespoke monogram to make your cake uniquely yours.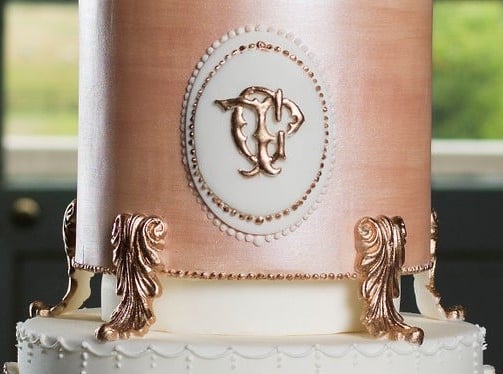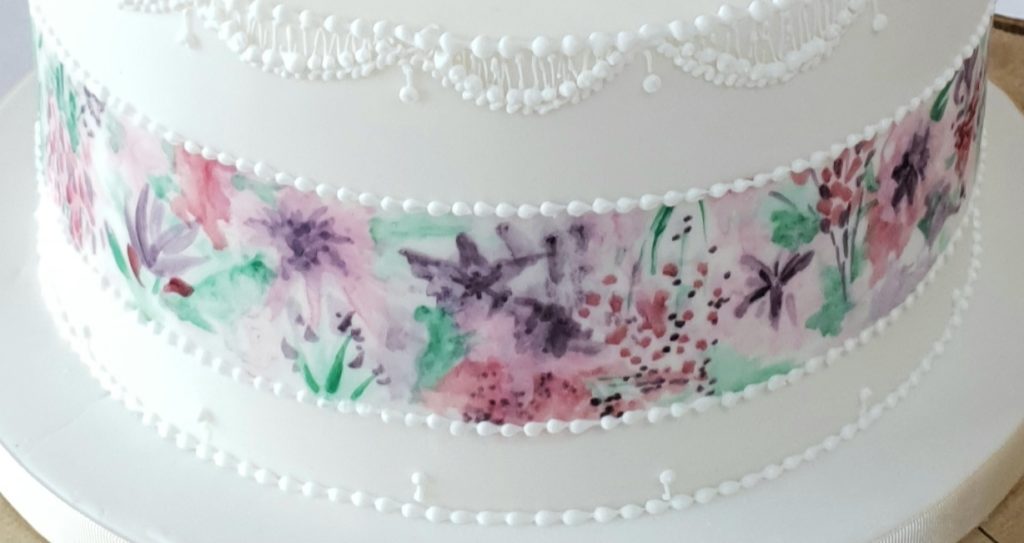 The stationery and fabric that Rachel and Chris designed for their wedding inspired their beautiful cake. I hand painted their bespoke wedding cake to match the stationery. I also added gorgeous royal icing details to frame the painting.
Wedding Gown
Where do I start? I adore wedding gowns and I cannot wait to see pictures of your gown to provide us with amazing inspiration for your wedding cake.  From a structured contemporary gown to a highly intricate lace gown all styles of gowns can inspire your wedding cake.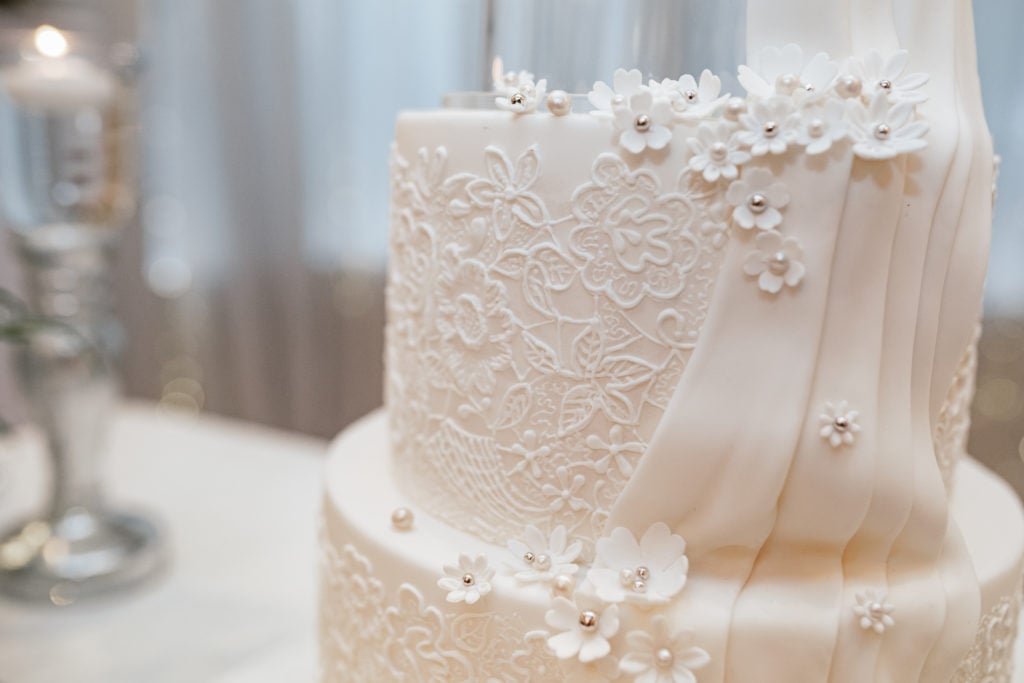 The lace on your gown can hand drawn and copied on to your cake. The lace is then delicately hand piped in royal icing to produce a bespoke wedding cake that is yours alone and truly reflects your style and personality.
Flowers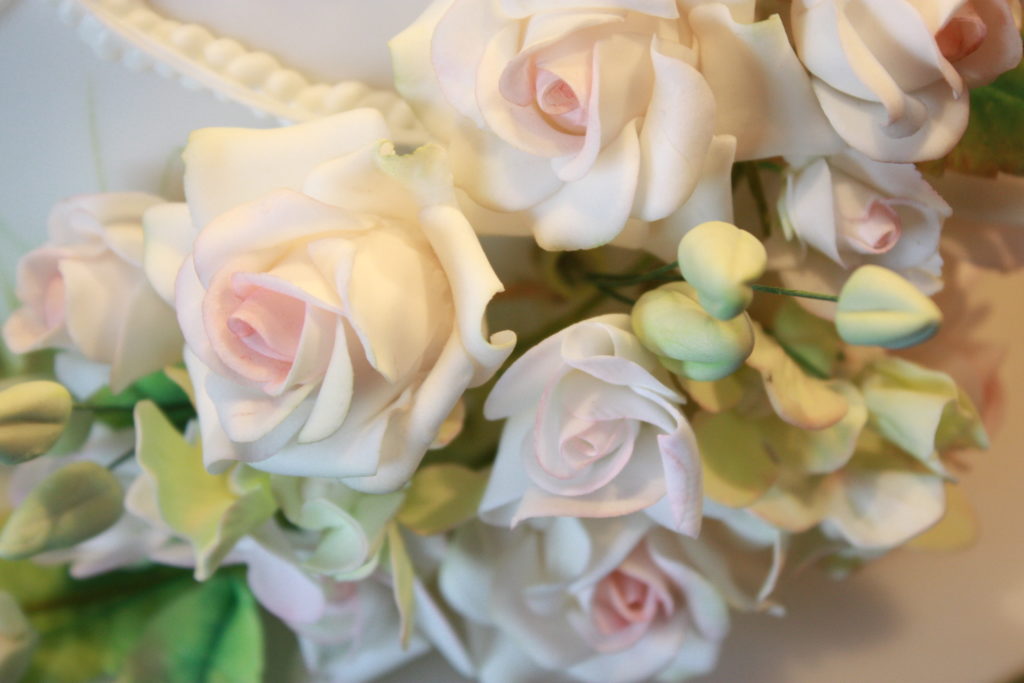 Your wedding is your opportunity to experience the most beautiful flowers and foliage. I can't think of another occasion when we can enjoy such an abundance of gorgeous blooms. Exquisite sugar flowers to complement your wedding flowers can decorate your cake. From a profusion of flowers to one single perfect bloom, sugar flowers are perfect for your wedding cake. One of the things I love most about sugar flowers is that they last indefinitely. Consequently I still have sugar flowers from my wedding cake from nearly 10 years ago!
Venue
You have chosen your venue because you love it and can imagine your perfect day there so it may be that we can look to your venue for inspiration for your wedding cake.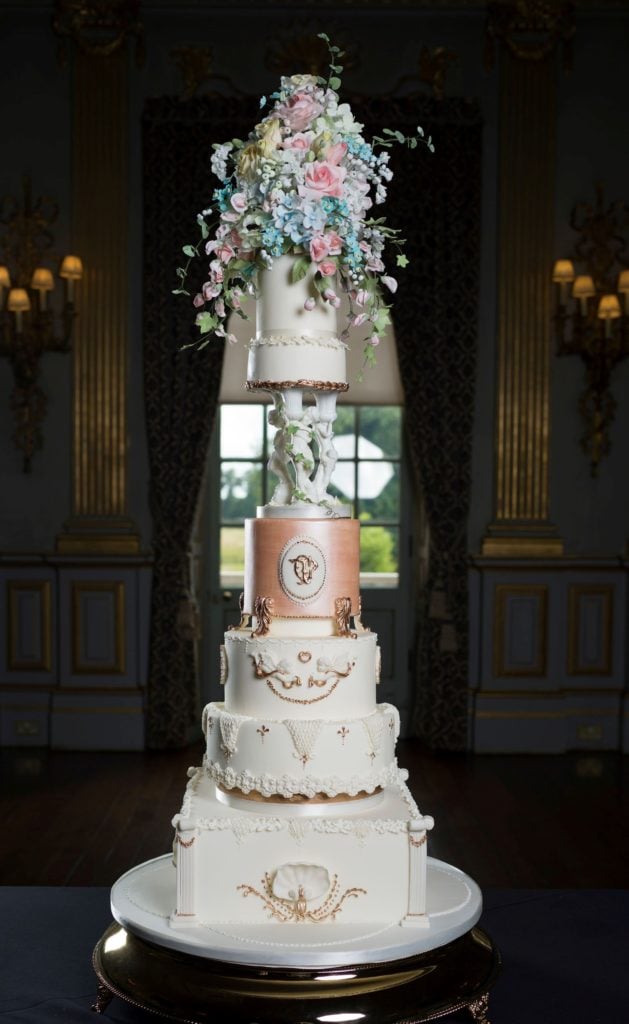 The Stucco Ballroom at Knowsley Hall was the setting for this cake. The architecture of the room is stunning and provided so much inspiration for the design including the beautiful sugar columns, shells, hand piped leaves and gold accents.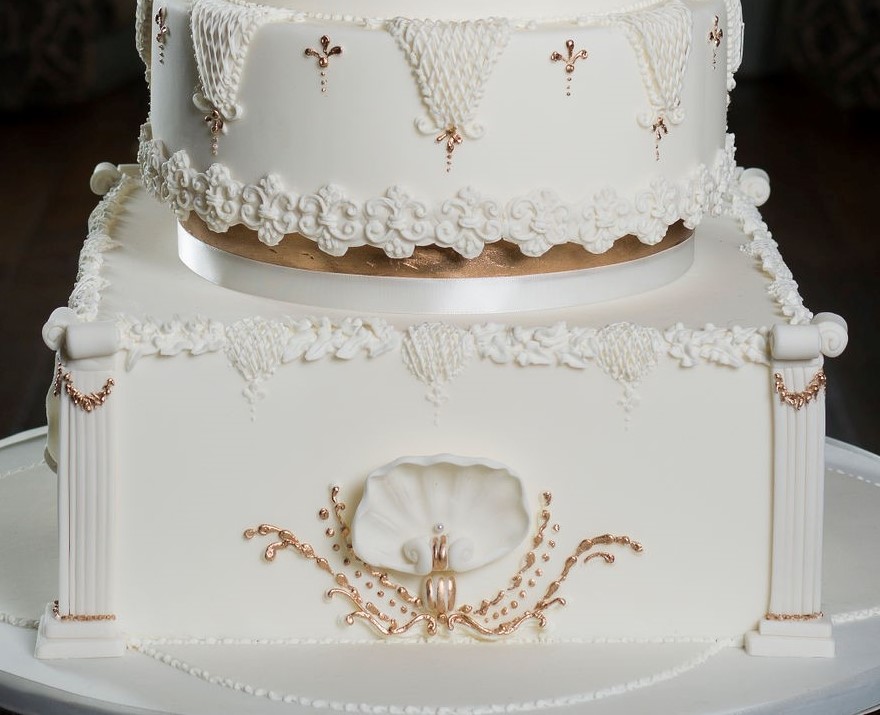 Interests
What brings you joy in your life? Remember your interests as well as your wedding details can inspire your cake.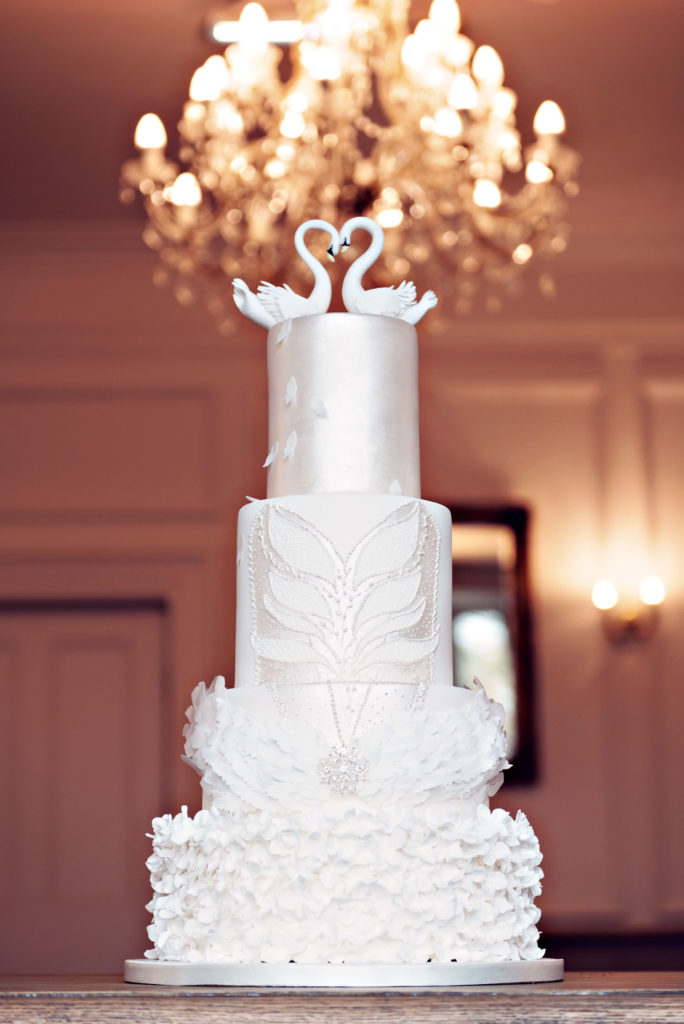 Swan Lake the Ballet inspired this cake. An elegant, delicate white cake on closer inspection pays homage to the love of Swan Lake.
Hundreds of individual sugar hydrangea flowers represent the skirt of the tutu. Hand piped royal icing highlighted with edible lustre dust forms the bodice. The wings are created from hundreds of sugar and wafer paper feathers to represent the Prima ballerina's headdress.
To finish the cake a pair of hand crafted sugar swans sits on the top tier. They symbolise not only the ballet but also love, partnership and devotion.
What could be more perfect for a wedding cake?
Most importantly please don't stress about your wedding cake design. Inspiration is plentiful and everywhere you look. Designing your wedding cake is one of the most exciting and pleasurable parts of your wedding planning and I am here to help
Suzie x
Venue: Knowsley Hall
Photographer: Jeff Langhorne
Photographer: Teresa C
Photographer: Kate McCarthy Photography