Small and perfectly formed wedding cakes for your micro wedding
What strange times we are living through! The pandemic has certainly taken its toll on wedding plans for this summer but love endures. For those who wish to go ahead and marry now a new phrase has been coined, the micro wedding. Micro weddings have always taken place and in fact I had one myself but my wedding was as planned. You may have changed to a much more intimate celebration but planned a much bigger affair. Understandably any change is difficult and my heart goes out to you. A micro wedding is though a joyful experience and you can read more about my intimate wedding here.
Celebrate in style
You can though still celebrate in style and part of that celebration can be a beautiful centrepiece luxury wedding cake. Thinking about where and how to display your cake will maximise it's potential. You can choose a beautiful cake stand, a fresh flower crown for your cake to sit on; a dessert table with your cake sitting proudly in the centre, the possibilities are endless.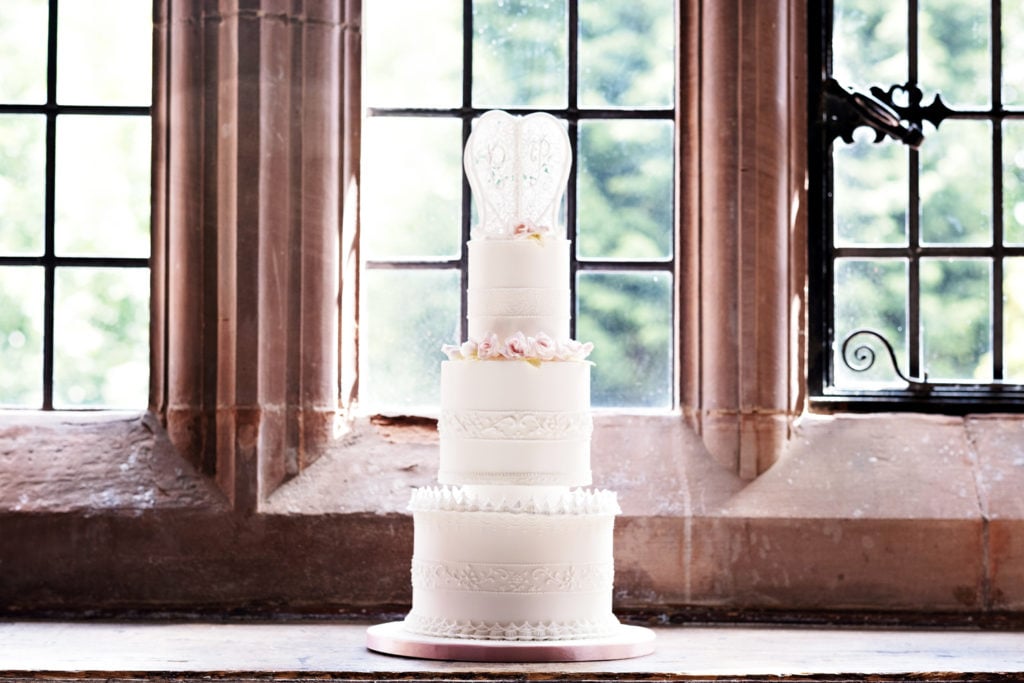 Wedding cake symbolism
Your wedding cake has deep symbolism dating back to Roman and Medieval times.
The cutting of your cake symbolises your first act together as a couple and provides an amazing photograph opportunity. The couple then usually feed each other a small bite of cake to symbolise caring and providing for one another throughout the marriage.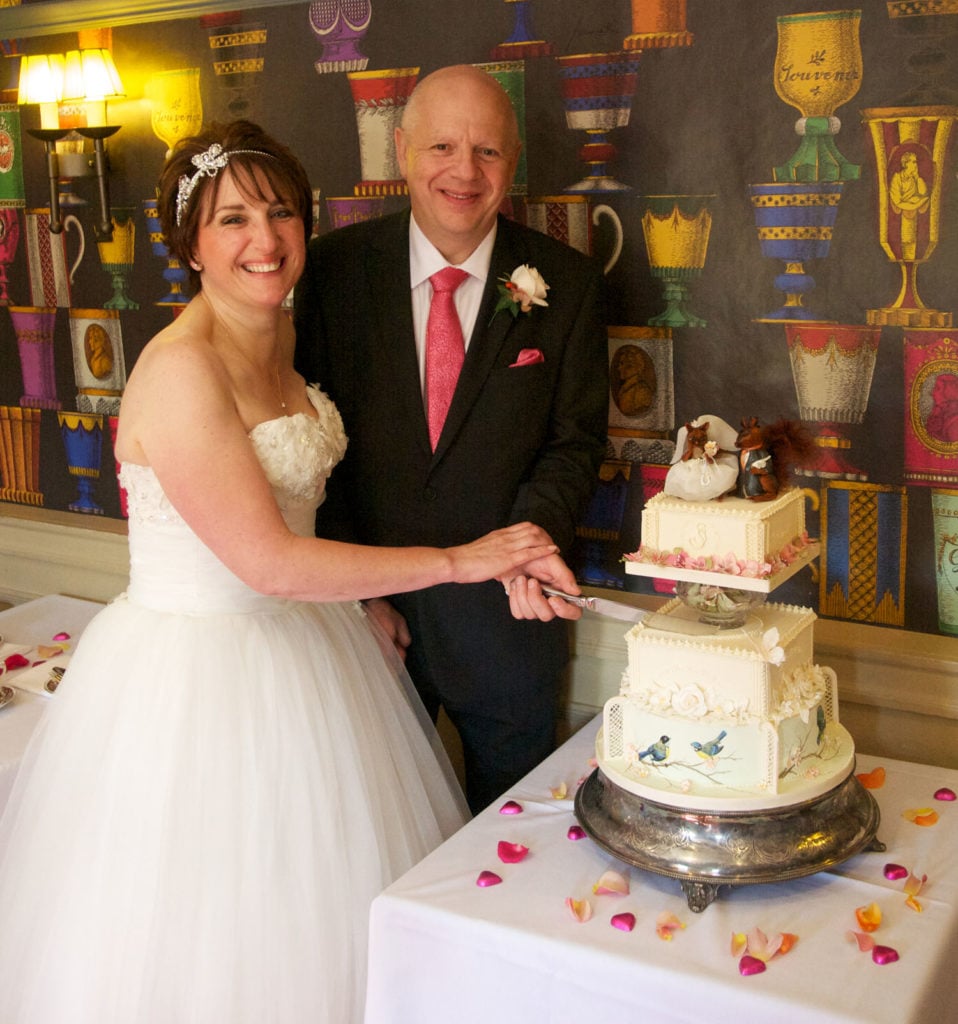 If a guest sleeps with a small piece of wedding cake under their pillow it is said that they will dream of their future partner. This may be a bit tricky with the trend for sponge cakes rather than fruit cakes now!
A white cake was a symbol of wealth in Victorian times as the ingredients to produce a white cake were incredibly expensive. The cake was also seen as a representation of the bride and was called The Bride's Cake. This tradition is still going strong and the cake is often in a colour to complement the bride's gown or bouquet.
As you can see the size of your cake does not matter, it will still carry all the deep meaning of the wedding cake and will still be a centrepiece of your wedding.
Luxury wedding cakes for your micro wedding
Smaller wedding cakes are designed in exactly the same way as a larger cake.  Inspiration for the design can be taken from other aspects of your wedding such as your flowers or your gown for example. Or how about using your stationary for your inspiration? What about you as a couple? Inspiration can be from shared hobbies it does not have to be from another aspect of your wedding. Why not combine several ideas?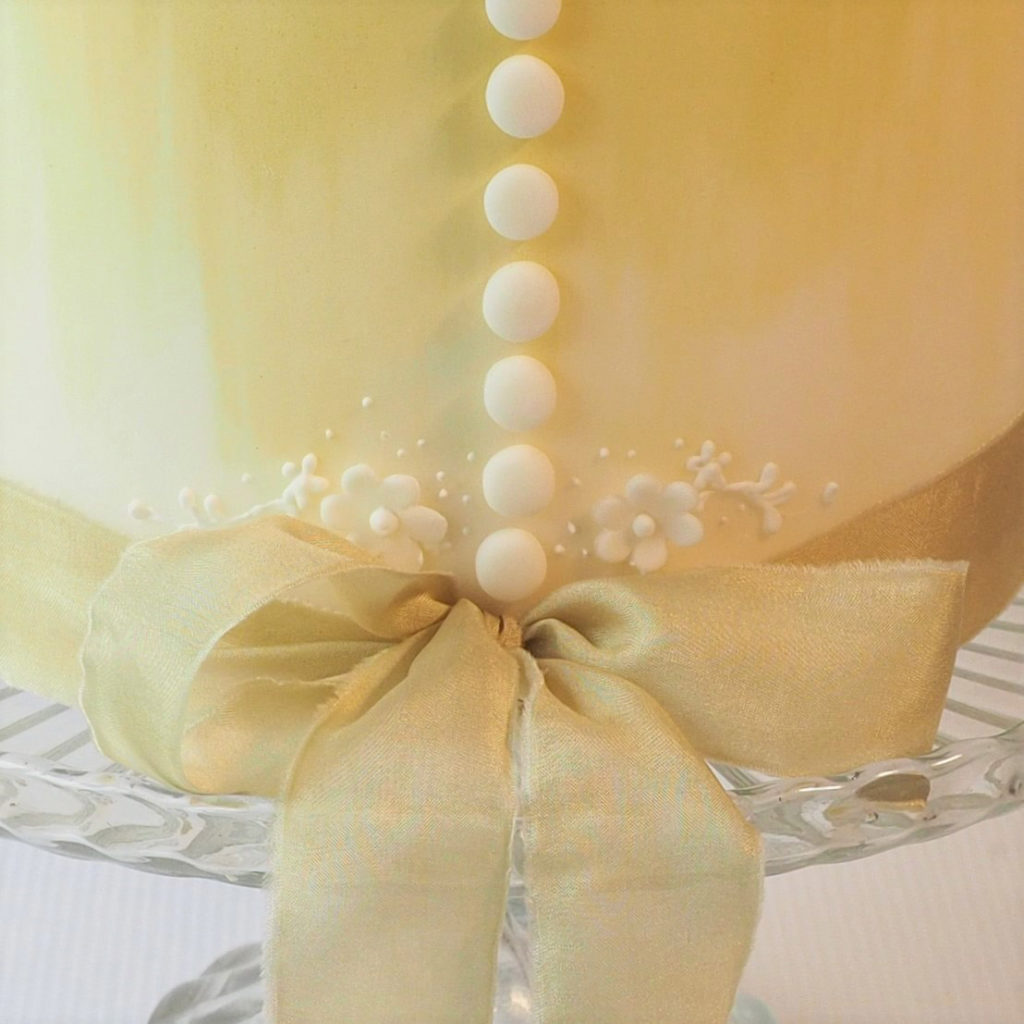 You may also wish to have a larger cake. Did you know that cake freezes really well? This means that you can store a tier in the freezer for you to enjoy together later. You can also have a dummy tier that is iced and decorated in exactly the same way as the rest of your cake but does not contain real cake.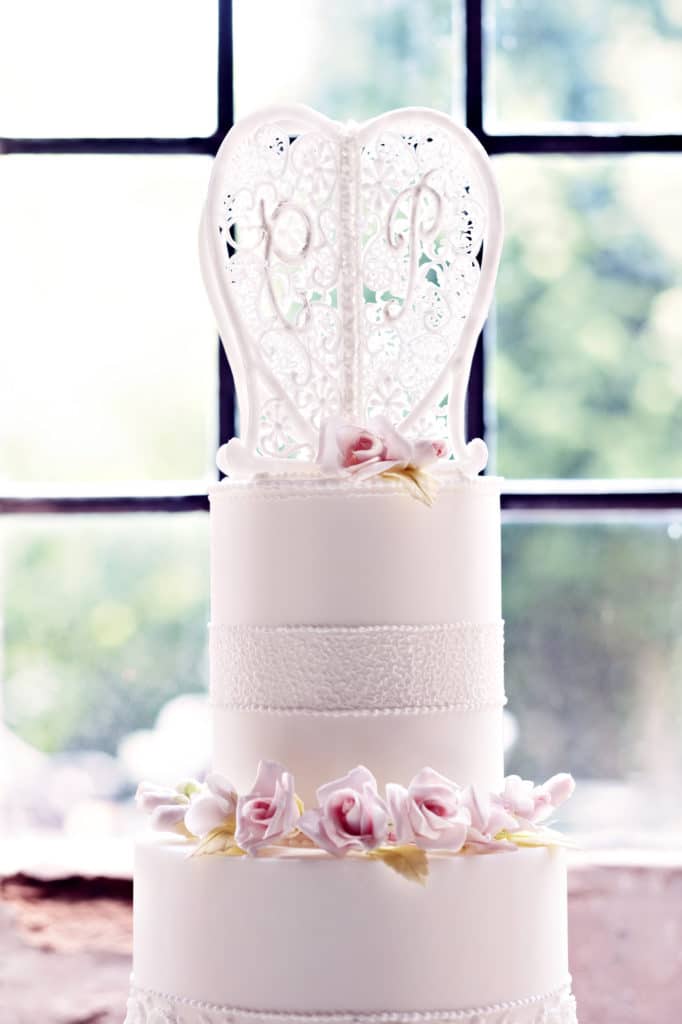 Ideas for smaller wedding cakes
Hand piped royal icing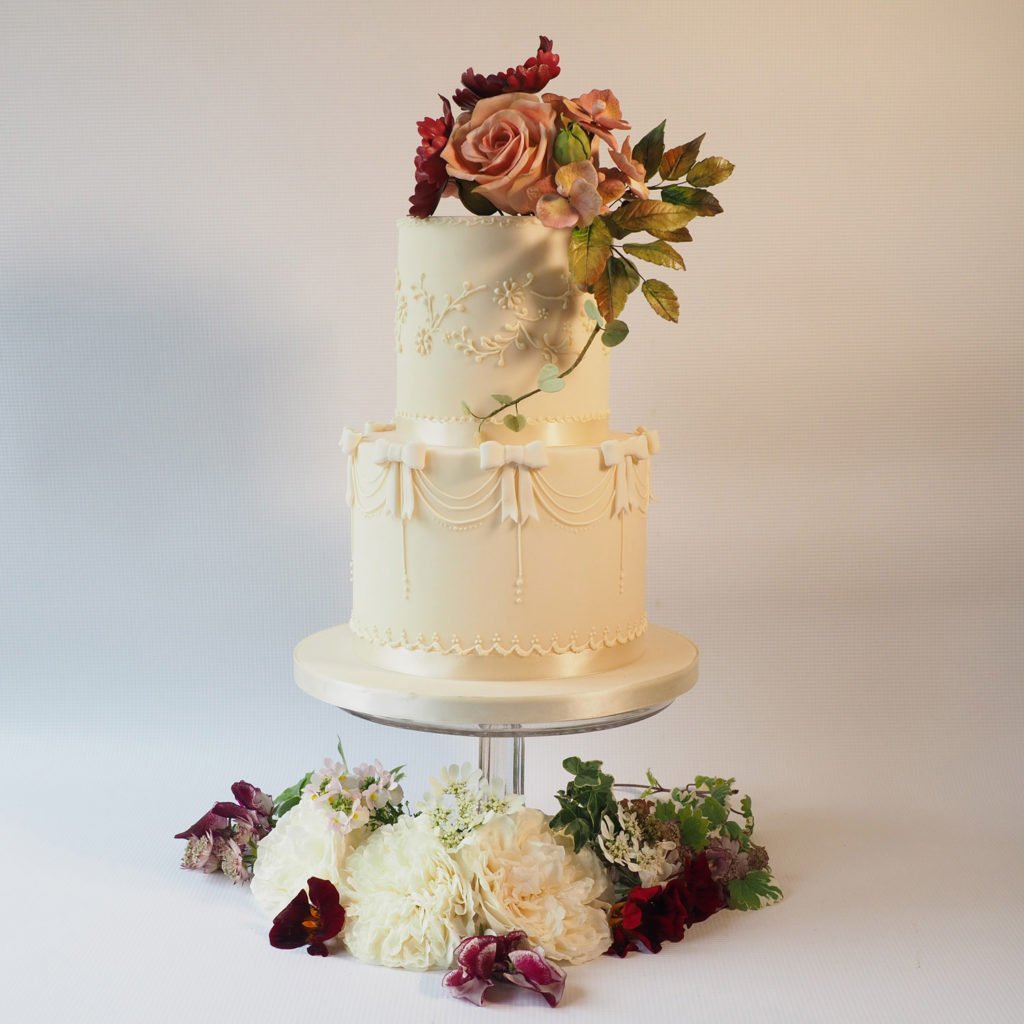 Hand piped royal icing adorns this beautiful cake. The design features royal icing lace to the top tier and dropped line work and hand crafted sugar bows to the bottom tier.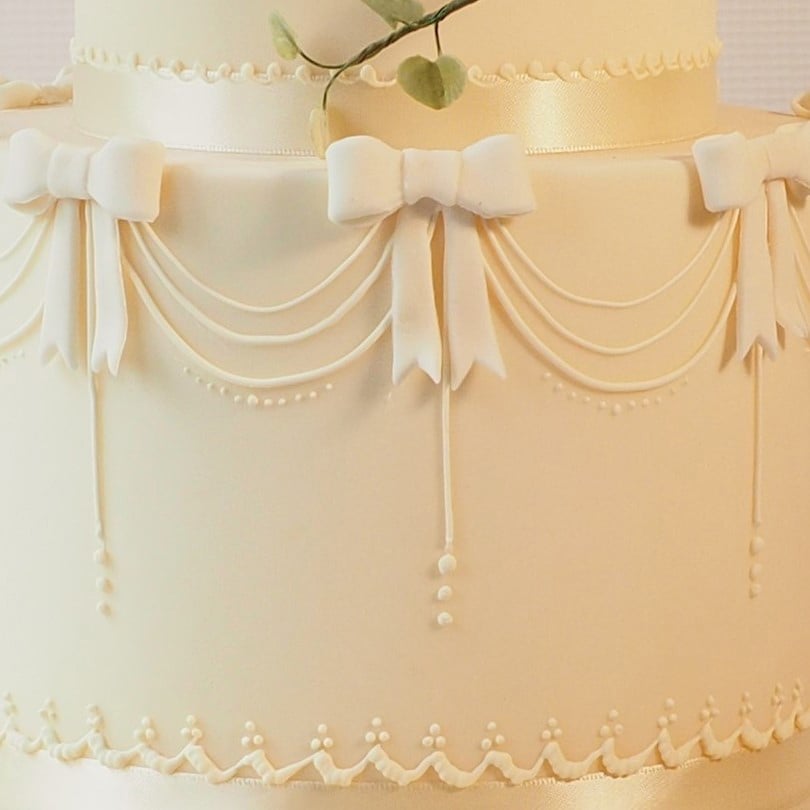 Finishing the base of each tier with a toning satin ribbon and a hand piped royal icing border gives a truly luxurious feel. Beautiful, delicate sugar flowers top this cake and provide a wonderful focal point. Each flower is painstakingly created by hand.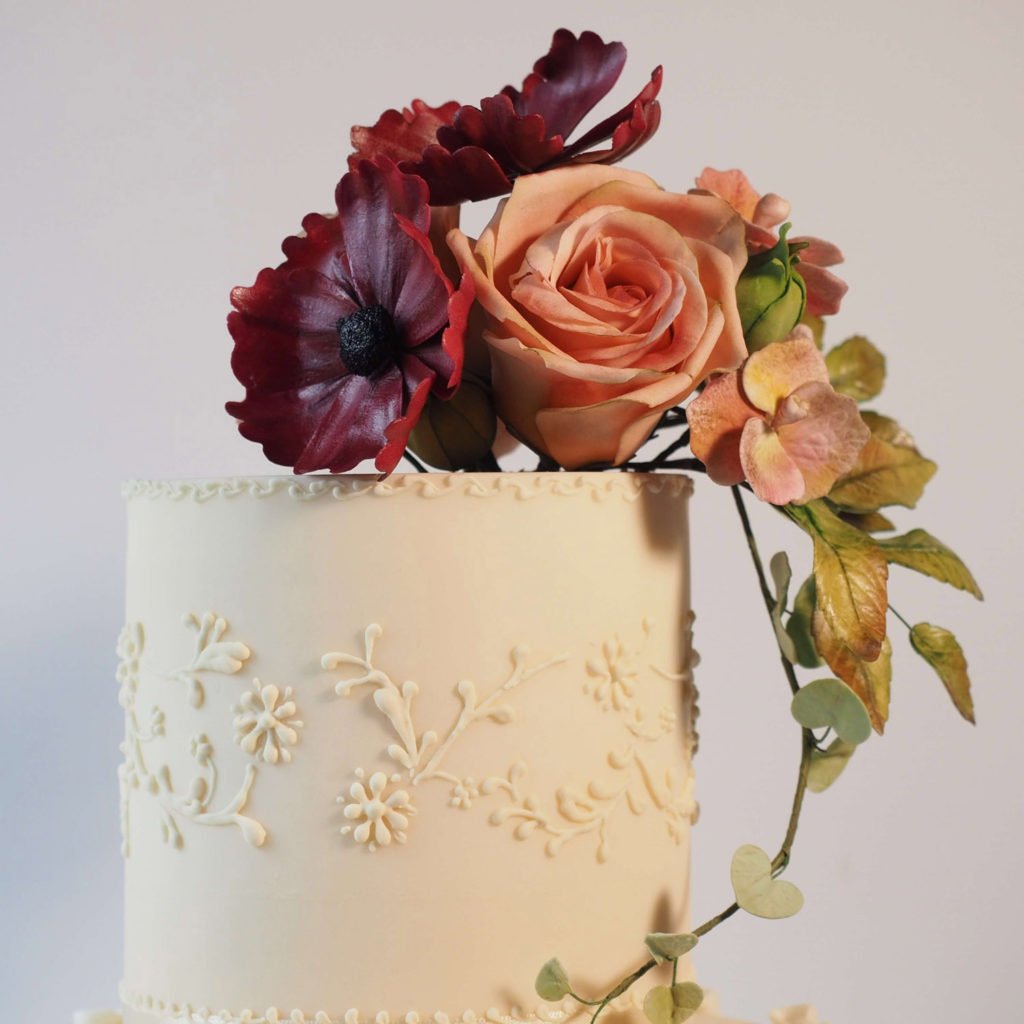 I have chosen autumnal colours here but the beauty of sugar flowers is that they can be created to match your bridal or event flowers. This will give your cake a wonderful bespoke feel and make it truly part of your intimate celebration. One of the most amazing things about sugar flowers is that they keep indefinitely as a reminder of your wedding day.
Contemporary flowers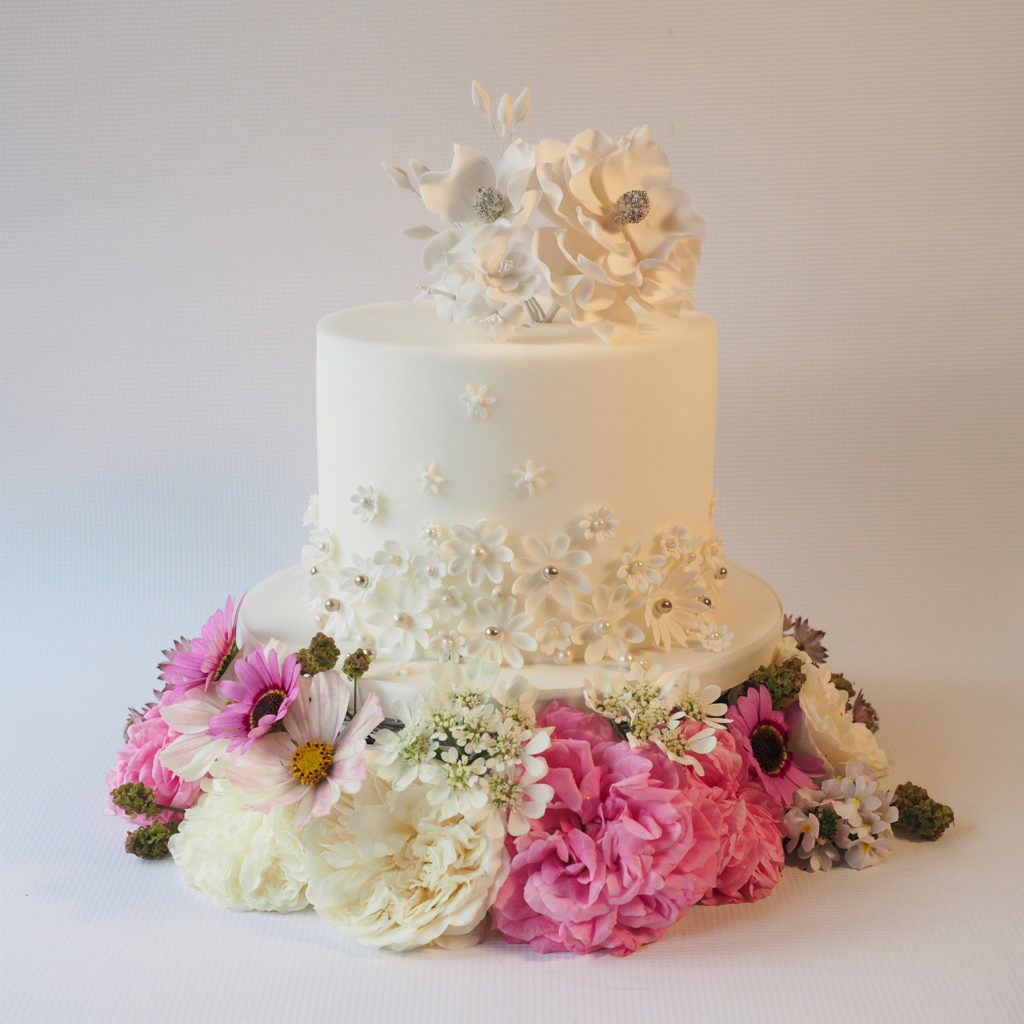 Beautifully simple contemporary sugar flowers cover the sides of this petite wedding cake. Each flower on the cake is individually crafted by hand and applied to the cake. Luxury dragee and sugar pearls finish the centres of the flowers. A posy of fantasy sugar flowers adorns the top of the cake. The larger flowers have a centre hand decorated with miniature dragee before adding each separate wired petal to the flower. A pretty organza white ribbon finishes the posy here but of course this ribbon can be matched to your wedding colours.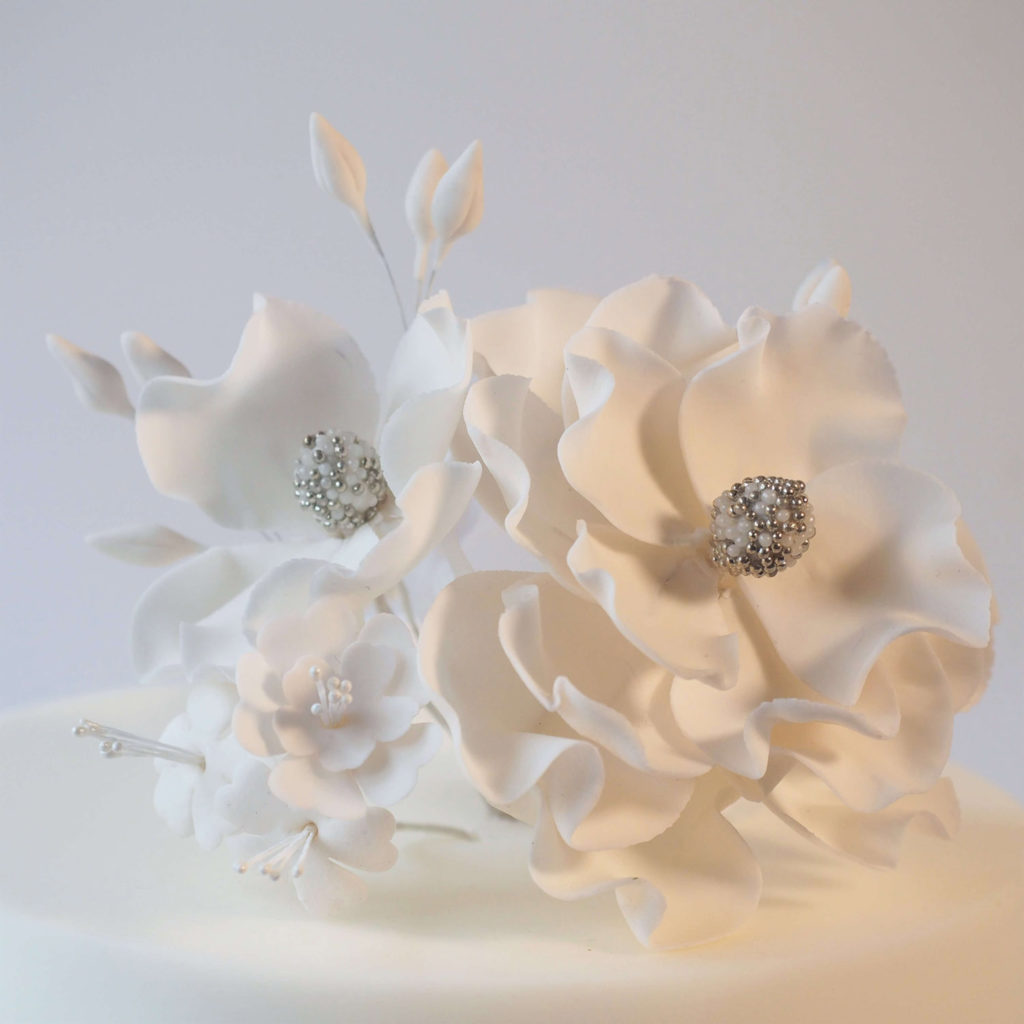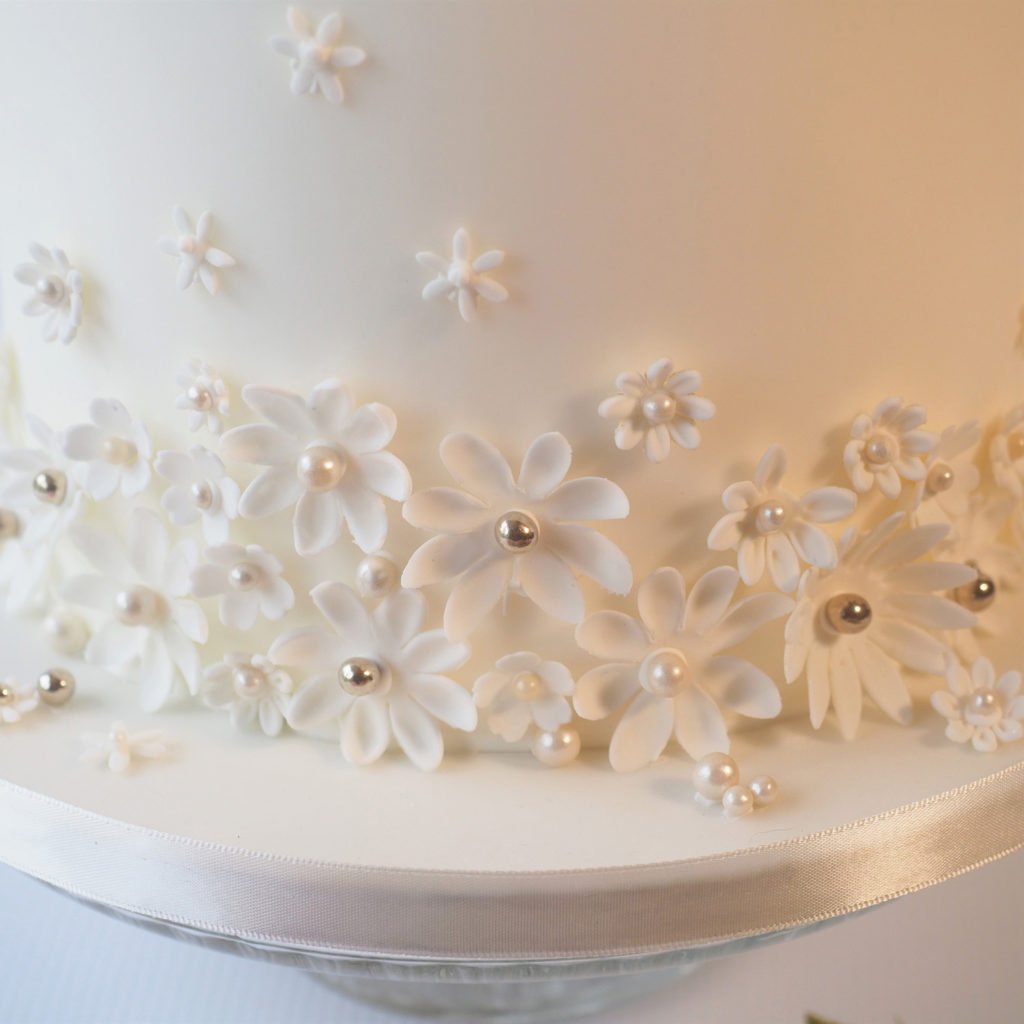 Hand painted watercolour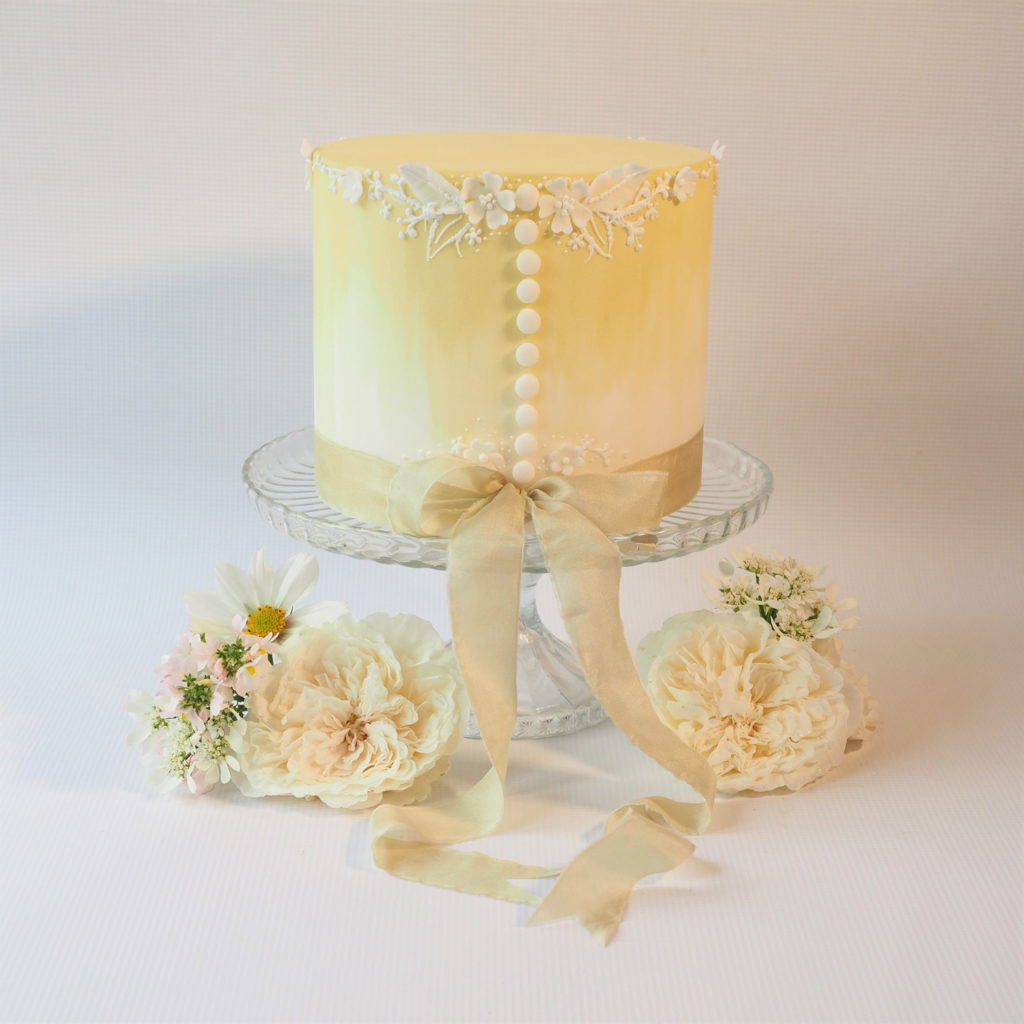 Matching the watercolour on the sides of your cake to your wedding colours gives a beautiful bespoke feel.Hand piped royal icing lace creates a border with added hand crafted sugar leaves and flowers to give depth and interest. A row of sugar buttons on the front of the cake emulates a wedding gown.
A wonderfully ethereal hand dyed silk ribbon finishes the base of the cake. Finishing the ribbon with a bow and tails means that the ribbon can trail delicately on to the surrounding surface.   Coordinating the hand dyed silk ribbon with your wedding colours if a great option. Nicola at Bertie and Fred creates small batches of these ribbons hand dyed with botanicals. Presenting your cake directly on an antique cake stand is a lovely way to make to create a focal point.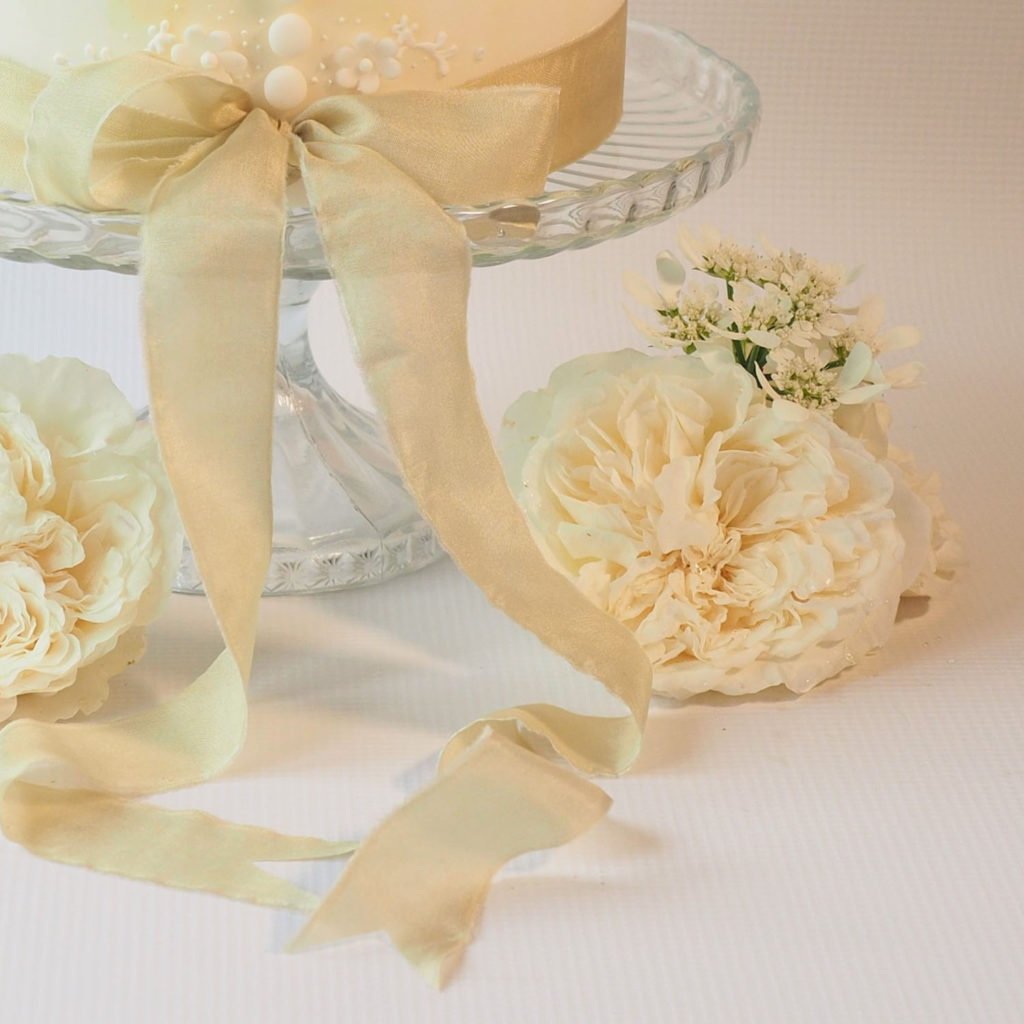 So no matter the size of your wedding you can still have the wedding cake of your dreams. You have many choices on size and style available to you. You can rest assured that your cake for your micro wedding will be as beautiful and delicious as its bigger cousin.
RIBBON: Bertie and Fred Botanical Hand Dyed Silks
VENUE with magnificent window: Abbey House Hotel 
PHOTOGRAPHER royal iced cake in front of window: Teresa C Photography